Things to Consider Before Remodeling
A bathroom remodel can seem daunting when you realize how many choices there are for fixtures, hardware, flooring and countertops. Add in the unique challenges of water, heat and humidity, which affect all bathrooms, and choosing the right materials becomes even more important.
While countertops might be the least of your concerns when it comes to remodelling a bathroom, they are still incredibly important – they need to be durable, easy to clean and attractive. Traditional Designs offers a selection of bathroom countertops Texas homeowners will love. If you don't know where to start, our Design Centers in Houston and Galveston will guide you through the process of designing your new bathroom and selecting the materials that will give you the look and performance you want.
Think about who will be using the bathroom – will it be used by adults, by children or all members of the family? Families with children need durable surfaces that are stain-resistant and easily cleaned, while rooms used primarily by adults can incorporate materials that require more care.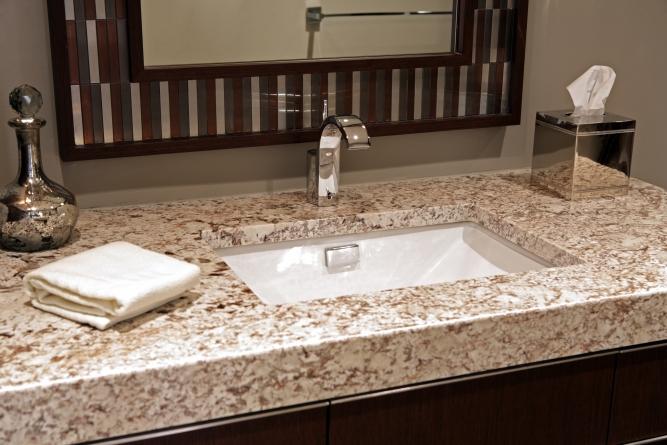 Think about the overall character that you're striving for in the room. Are you going for a modern, sleek look, or will you be using dark wood and antique hardware?
Consider how much surface you need to cover with your countertop. Whether you have a small vanity top or a long counter may affect your choice of materials.
Stone Countertops
Whether you come to our showroom with detailed plans or only vague ideas, you will probably at some point have considered stone countertops for your bathroom. Let's take a quick look at four of the stone options we offer at Traditional Designs.
Granite: Granite is an excellent choice for any bathroom counter. It is hard, scratch-resistant, stain-resistant, and able to withstand the heat from curling irons and hair dryers. Granite is available in a large array of colors and patterns.
Quartz: Quartz shares many of the qualities of granite at a lower cost. It is durable, stain-resistant, and easy to clean. It also comes in a wide choice of colors.
Marble: Marble's beautifully veined colors, from white to pink to black, lend an old-world elegance to any room. However, marble is softer than granite or quartz and is more porous. It must be sealed to protect it from stains and gently cleaned.
Limestone: Limestone is a less formal and increasingly popular material for the bathroom countertops Texas remodelers want. Limestone is available in a variety of earth tones and is usually installed with a matte finish. It may have small visible fossils, which give the bathroom a natural, green atmosphere.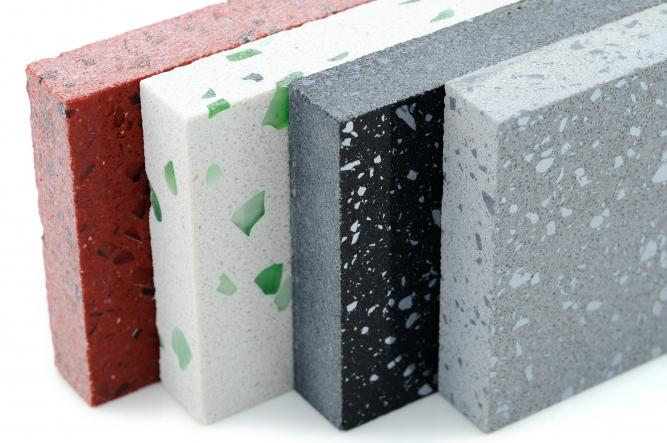 Make the Smart Choice and Choose Traditional Designs
Whatever choice you ultimately make for your bathroom countertops, the Texas-style service and extensive options available at Traditional Designs make us your premier partner. As a family business with over 30 years of experience, we can help you design your bathroom, select your materials from our on-site inventory, and offer skilled installation. Call us now at
and start your remodeling today. Let us help you turn your plans into beautiful reality.