Kitchen Countertops Houston
by Traditional Designs Ltd.
For All Your Custom Kitchen Countertops Houston Needs
Traditional Designs Ltd is your one stop shop for custom kitchen countertops Houston. With over 30 years experience, our family-owned business gives you the service and attention your home deserves. Whether you are looking for design, fabrication, installation, repair, or remodeling, our team of expert craftsmen and customer service specialists are ready to provide you with an unparalleled experience.
Get Started Today – It's Easy
Not sure where to start? Don't worry, we make it easy to shop for new kitchen countertops in Houston with our Create Your Kitchen – Virtual Kitchen Display. Or, if you're more of a hands-on kind of person, we invite you to tour our showroom warehouse, where you can hand select your unique slab of marble, quartz, or granite today. Plus, for when you need the best advice, our professional service personnel are standing by to answer your call at .
Custom Countertops – Kitchen, Bathroom, Deck, Patio, or Anywhere
While Houston kitchen countertops are by far our most popular projects, our versatile team is ready to install custom marble, granite, or quartz countertops wherever you need them most. Just looking for a replacement? Our design team will help you select the best match up for your current design. Looking for a complete overhaul? Don't worry, our designers can help you out from start to finish.
---
Kitchen Countertops
Nothing completes a fantastic kitchen design like a custom kitchen countertop, made from marble, quartz, or granite. Whether you spend hours in your kitchen on a daily basis or like to have guests over for dinner and drink, Traditional Designs does not disappoint. Plus, act now and you may qualify to receive a free kitchen sink!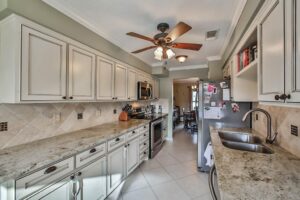 ---
Bathroom Countertops
Much like our kitchen models, our custom bathroom countertops are also designed to tolerate lost of water, moisture, and regular use. All of our countertops are sealed with Miracle Sealants, giving them a powerful 20-year stain resistant warranty.
---
Outdoor Kitchen Countertops
Houston's year-round temperatures make outdoor patios more popular than ever. Enjoy the good life with a custom outdoor kitchen countertop, complete with grill, fireplace, mini-fridge and more. If you already love to barbecue, the addition of a custom countertop is the perfect upgrade for your outdoor living area. Or maybe you like to host pool parties? Traditional Designs can help you impress with your best, just call us today at .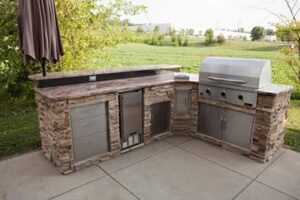 ---
Your Custom Kitchen Countertops Houston Expert
When you are ready to remodel, repair or update your home you need easy access to quality materials, quality installation and reliable advice. For custom kitchen countertops Houston, that means Traditional Designs, Ltd.
We can help you choose from a large selection of superior products. We also provide guaranteed installation by skilled craftsmen. Call us today at  and let us discuss your ideas and offer a quote on the beautiful changes you have planned for your home.
Custom Kitchen Countertops Houston TX | Traditional Designs Ltd.